Reclamation Awards $4.9 Million Contract for Supervisory Control and Data Acquisition Modernization for the Colorado River Storage Project
Reclamation Awards $4.9 Million Contract for Supervisory Control and Data Acquisition Modernization for the Colorado River Storage Project
Media Contact: Marlon Duke, 801-524-3774, mduke@usbr.gov

For Release: January 03, 2018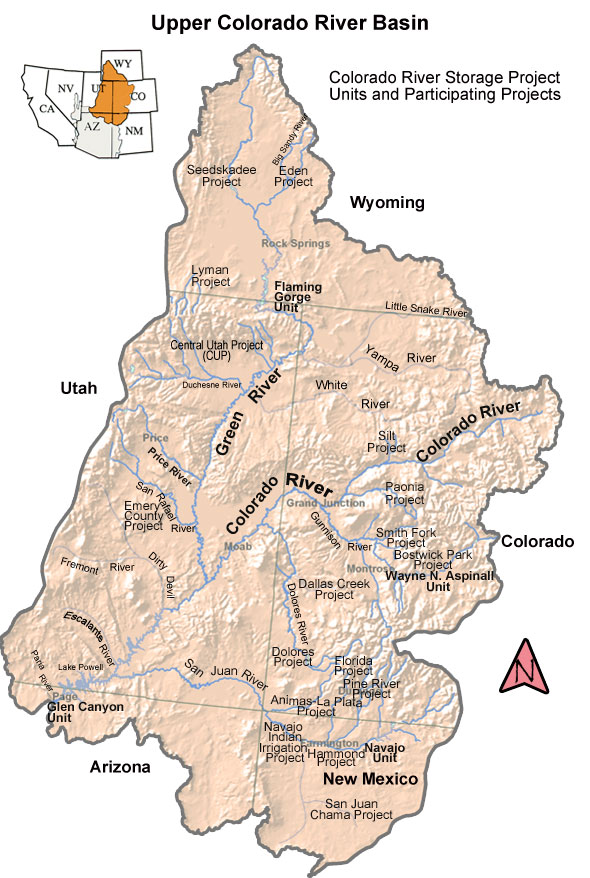 Map of the Colorado River Storage Projects SALT LAKE CITY, Utah – The Bureau of Reclamation took an important step in enhancing infrastructure control, monitoring, information security and knowledge sharing across Colorado River Storage Project (CRSP) facilities by awarding a $4.9 million contract to Systems Integrated on January 2, 2018. The five-phase project will replace and modernize existing Supervisory Control and Data Acquisition (SCADA) systems to further standardize Reclamation's system architectures between its Upper and Lower Colorado Regions.
Along with greater knowledge sharing for system support, this standardization will allow for a more cost-effective utilization of standard software packages and licenses, as well as a more efficient and agile response to emerging regulatory compliance and information security concerns surrounding Industrial Control Systems. Modernized systems will enable better data collection and reporting than previously available, expanding Reclamation's ability to provide accurate and detailed information to project customers and end users more quickly than ever before.
The first phase of the project will prototype the modernized SCADA system on two hydroelectric generators, which will be identified once work commences under the contract. Phase 2 will install and configure the new system across the remaining CRSP generators. Phases 3-5 will include ongoing monitoring and maintenance for the system. Work under this contract is scheduled to begin January 3, 2018, and conclude January 2, 2023.
Congress authorized the Colorado River Storage Project in 1956. Since then, its facilities have provided life-sustaining water and power resources to communities across the arid West. This modernization project will help ensure that those facilities continue to operate as efficiently and effectively as possible to continue providing water and power for millions of American families.
# # #
Reclamation is the largest wholesale water supplier in the United States, and the nation's second largest producer of hydroelectric power. Its facilities also provide substantial flood control, recreation, and fish and wildlife benefits. Visit our website at https://www.usbr.gov and follow us on Twitter @USBR.