Temporary closure of a portion of the American River Bike Trail next week
Temporary closure of a portion of the American River Bike Trail next week
Media Contact: Erin Curtis, 916-978-5100, eccurtis@usbr.gov

For Release: November 08, 2017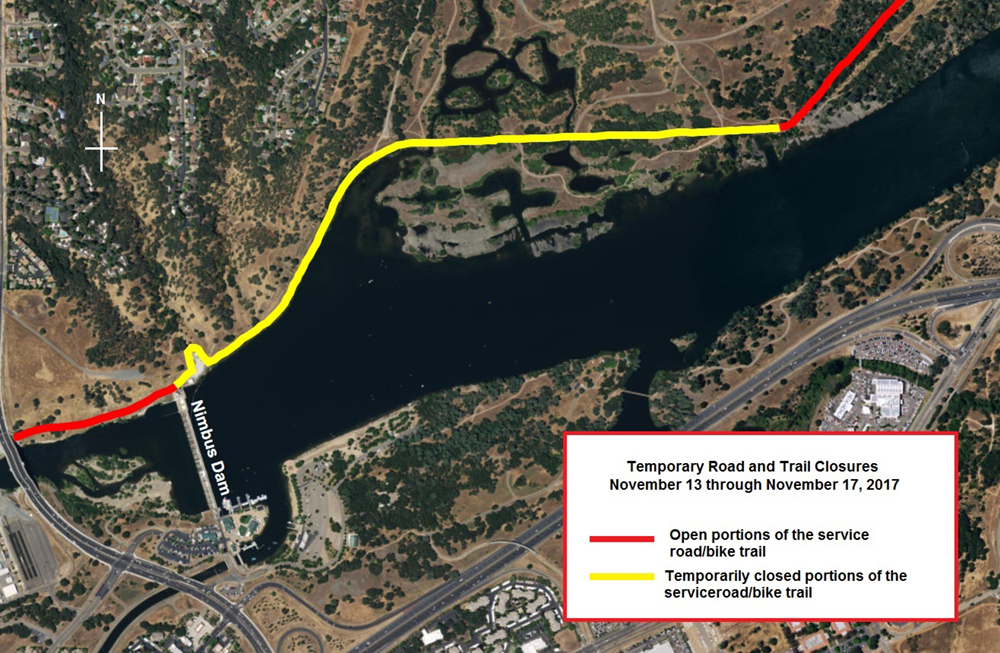 Closure of trail indicated by yellow lineSACRAMENTO, Calif. - The Bureau of Reclamation and California Department of Parks and Recreation are closing a portion of the American River Bike Trail near Nimbus Dam for three days this month to conduct electricity tests. The portion will be closed beginning Monday, Nov. 13, 2017 at 7 a.m. and will reopen Thursday, Nov. 16, 2017 at noon.
The closure will start at Nimbus Dam and continue to the Negro Bar Recreation Area. People using the bike trail access points located at the Hazel Avenue overpass, the Sunset Avenue and Main Avenue intersection, the Mississippi Bar area, and the Negro Bar area, are advised that there will be no through traffic along the closure area. The closure is indicated in yellow on the map and there is no planned diversion route. Users are advised to recreate on other trails in the area; the south side of Lake Natoma will not be affected. Signage will be posted near the closed section of the trail.
The closure is due to testing of the ground grid at Nimbus Dam and Powerplant. The tests will ensure proper grounding of electrical equipment and other metallic objects in and around the dam and powerplant. Proper grounding ensures the safety of the public and employees at the facilities.
For questions on the closure please contact Mazyar Daneshgar at mdaneshgar@usbr.gov or 916-537-7216 (TTY 800-877-8339).
# # #
Reclamation is the largest wholesale water supplier in the United States, and the nation's second largest producer of hydroelectric power. Its facilities also provide substantial flood control, recreation, and fish and wildlife benefits. Visit our website at https://www.usbr.gov and follow us on Twitter @USBR.