Belle Fourche Reservoir's Gadens Point/Suzie Peak Road Closed to Public
Belle Fourche Reservoir's Gadens Point/Suzie Peak Road Closed to Public
Media Contact: Jay Leasure, (605) 394-9757 ext. 3011, 09/08/2017 14:02

For Release: September 08, 2017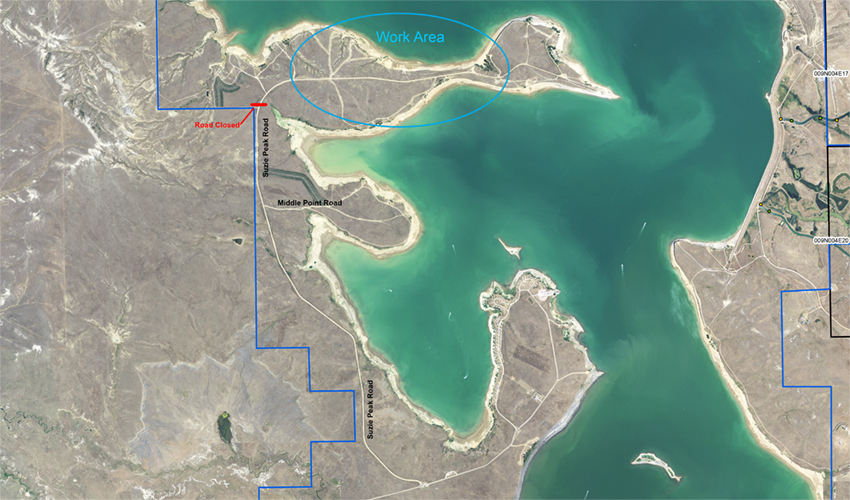 Map of the Suzie Peak Road Closure area.RAPID CITY, S.D. -- Reclamation will close the portion of Suzie Peak Road leading to Gadens Point at Belle Fourche Reservoir beginning Monday, September 11, 2017.
Public traffic will be restricted on Suzie Peak Road in the location north of the Middle Point Area due to construction activities as Reclamation is in the early stages of shaping the reservoir shoreline for rip rap placement immediately west and south of Tequila Beach.
"We are closing this portion of the road for public safety reasons," said Jay Leasure, Natural Resource Specialist. "There will be heavy equipment operating in the area and heavy truck traffic hauling rip rap material around and on Suzie Peak Road."
This portion of Suzie Peak Road will be closed to the public until November 15, 2017.
For more information please contact Jay Leasure at 605-394-9757 ext. 3011.
# # #
Reclamation is the largest wholesale water supplier in the United States, and the nation's second largest producer of hydroelectric power. Its facilities also provide substantial flood control, recreation, and fish and wildlife benefits. Visit our website at https://www.usbr.gov and follow us on Twitter @USBR.
Relevant Link: