Prize Competition Launched by Bureau of Reclamation Seeking Ideas to Improve Capture of Field Data
Prize Competition Launched by Bureau of Reclamation Seeking Ideas to Improve Capture of Field Data
Data app should be flexible, extensible and open source to assist scientists, engineers and technicians in collecting data in the field
Media Contact: Peter Soeth, 303-445-3615, psoeth@usbr.gov

For Release: May 24, 2017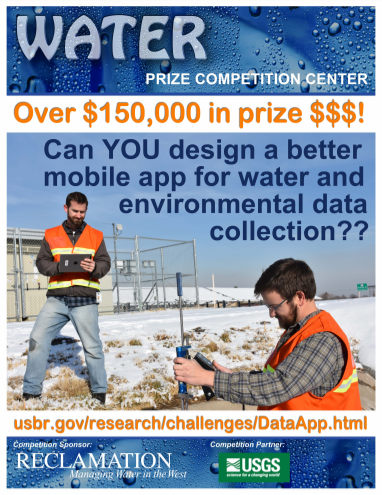 Data App ChallengeWASHINGTON - The Bureau of Reclamation, in collaboration with the U.S. Geological Survey, is seeking the development of an application framework to support electronic data collection and capture using mobile devices across a diverse range of data collection situations. The app framework should be flexible, extensible and open source to enable future improvement and development of added features by a community of app developers and users. It will enable Reclamation, USGS, other federal and non-federal engineers and scientists to more effectively collect and synthesize vital field data at a lower cost.
This is stage one of a planned three-stage prize competition. It will culminate in stage three with the development of an app. The stage one ideation stage seeks ideas for robust and efficient software architecture concepts and software technologies that would enable the desired app framework to be designed and function as intended.
Reclamation is making $30,000 available for this prize competition. One award will be at least $5,000 and remaining awards being at least $2,500. Ideas must be submitted by July 6, 2017.
Data collection is fundamental to water and environmental science and management. Examples include monitoring existing infrastructure to identify maintenance priorities and collecting a wide range of environmental data such as monitoring fish and wildlife populations. Scientists, engineers and technicians are increasingly using mobile devices to record measurements, document site locations via GPS, and take photos and notes in the field. Although numerous applications are already available to support general data collection on mobile devices, they do not provide the functionality and flexibility needed for a broad range of water and environmental data collection.
To register and learn more about this prize competition, visit https://www.usbr.gov/research/challenges/dataapp.html. To learn more about Reclamation's Water Prize Competition Center, visit https://www.usbr.gov/research/challenges/.
# # #
The Bureau of Reclamation is a federal agency under the U.S. Department of the Interior and is the nation's largest wholesale water supplier and second largest producer of hydroelectric power. Our facilities also provide substantial flood control, recreation opportunities, and environmental benefits. Visit our website at https://www.usbr.gov and follow us on Twitter @USBR.