Reclamation Monitoring Hyrum Dam Due to High Reservoir Inflow
Reclamation Monitoring Hyrum Dam Due to High Reservoir Inflow
Media Contact: Wayne Pullan, 801-369-2778, 02/10/2017 13:29
Marlon Duke, 801-524-3774, mduke@usbr.gov
For Release: February 10, 2017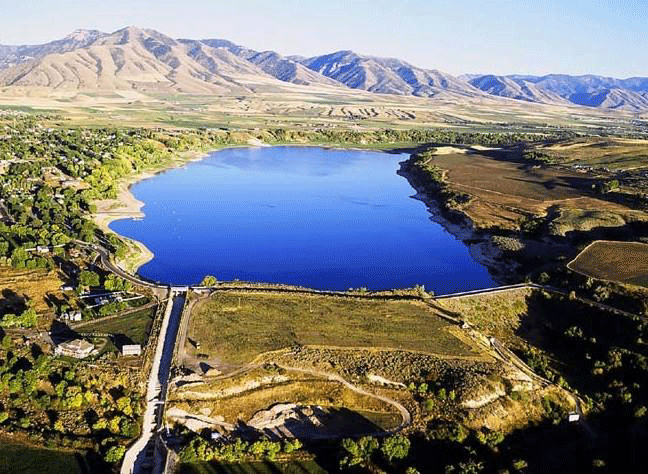 Hyrum DamHyrum, Utah – The Bureau of Reclamation is monitoring Hyrum Dam near Hyrum, Utah, due to unseasonably high reservoir inflow and likelihood of increased releases from the dam. As a precautionary measure, Reclamation issued an Emergency Action Plan Response Level I on February 10, 2017, which is the least serious of the three response levels.
"This action is a precautionary and responsible measure to ensure proper communication among response and management agencies, as well as appropriate monitoring during this high inflow event," said Wayne Pullan, Reclamation's Provo Area Office Manager. "There is no foreseeable threat at this time to public safety or property."
This response does not pose a hazard either at the reservoir or to downstream communities, and the public does not need to do anything at this time. Response Level I indicates that unusual conditions at the dam—in this case, unseasonably high inflows due to significant precipitation and warmer-than-average temperatures—require additional monitoring. Reclamation is releasing water using the reservoir spillway to make room for forecasted inflows. Current projected release volumes are within the safe downstream channel capacity and are not expected to create additional flooding.
In addition to high inflows, Reclamation officials this week observed a small soil slide near a restricted dam access road and additional erosion along the 300 South highway near the reservoir bank. Neither area presents a threat to the dam or immediate risk to the public.
Hyrum Dam and Reservoir are located on the Little Bear River, approximately nine miles southwest of Logan, Utah. The dam is an earthen embankment, 116 feet tall at its highest point and 540 feet long at the crest.
# # #
Reclamation is the largest wholesale water supplier in the United States, and the nation's second largest producer of hydroelectric power. Its facilities also provide substantial flood control, recreation, and fish and wildlife benefits. Visit our website at https://www.usbr.gov and follow us on Twitter @USBR.