Corps and Reclamation Release Final Environmental Impact Statement for Lower Yellowstone Fish Passage
News Release Archive
Corps and Reclamation Release Final Environmental Impact Statement for Lower Yellowstone Fish Passage
Media Contact: Tom O'Hara, (402) 995-2004, thomas.a.ohara@usace.army.mil
Tyler Johnson, (406) 247-7609, tjohnson@usbr.gov
For Release: October 14, 2016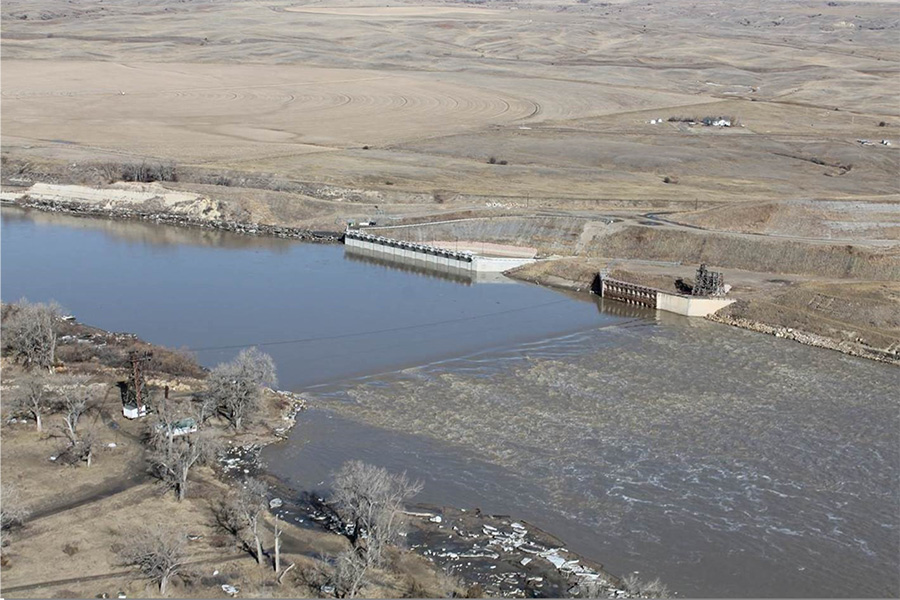 Intake Diversion DamBILLINGS, Mont. -- The U.S. Army Corps of Engineers (Corps) and Bureau of Reclamation released the Final Environmental Impact Statement (EIS) today for the Lower Yellowstone Intake Diversion Dam Fish Passage Project located 70-miles upstream from the confluence of the Yellowstone and Missouri Rivers near Glendive, Montana.
The Corps and Reclamation, serving as Federal co-leads, prepared the Final EIS to evaluate and disclose the impacts of improving fish passage at the Intake Diversion Dam while also maintaining the viable and effective operation of the Lower Yellowstone Project.
"The lower Yellowstone River is considered by the U.S. Fish and Wildlife Service to provide one of the best opportunities for recovery of Pallid Sturgeon," said Col. John W Henderson, Omaha District commander for the Corps.
The Final EIS released today evaluates and discloses the potential effects of a No Action alternative and five action alternatives for improving fish passage at the Intake Diversion Dam. Action alternatives analyzed include; rock ramp, bypass channel, modified side channel, multiple pumps and multiple pumps with conservative measures. Each alternative includes a monitoring and adaptive management plan.
The Corps and Reclamation identified the Bypass Channel as the preferred alternative based upon it best fulfilling statutory mission and responsibilities for both agencies along with the consideration of economic, environmental, and technical factors.
Both agencies believe the Bypass Channel Alternative could be constructed, operated, and maintained to meet the physical and biological criteria identified by the Fish and Wildlife Service's Biological Review Team, and therefore would provide passage for pallid sturgeon and other native fish. Additionally, the Bypass Channel Alternative is a cost effective means of providing fish passage and is estimated to have the lowest annual cost for long term operations and maintenance of the action alternatives considered.
"The Bypass Channel provides a balance of fish and agricultural community needs," said Reclamation's Great Plains Regional Director Mike Ryan. "The alternative provides the pallid sturgeon a chance at recovery and allows for the continued viable and effective operation of the Lower Yellowstone Project."
The release of the Final EIS does not constitute a decision. No sooner than 30 days following the Environmental Protection Agency's Federal Register notice of the EIS filing, the Corps and Reclamation may prepare and issue a Record of Decision to select an alternative for implementation and other commitments.
To view the Final Environmental Impact Statement and other associated documents, please visit: www.usbr.gov/gp/mtao/loweryellowstone/.
# # #
Reclamation is the largest wholesale water supplier in the United States, and the nation's second largest producer of hydroelectric power. Its facilities also provide substantial flood control, recreation, and fish and wildlife benefits. Visit our website at https://www.usbr.gov and follow us on Twitter @USBR.
Relevant Link: