Lynn Fausett (1894-1977)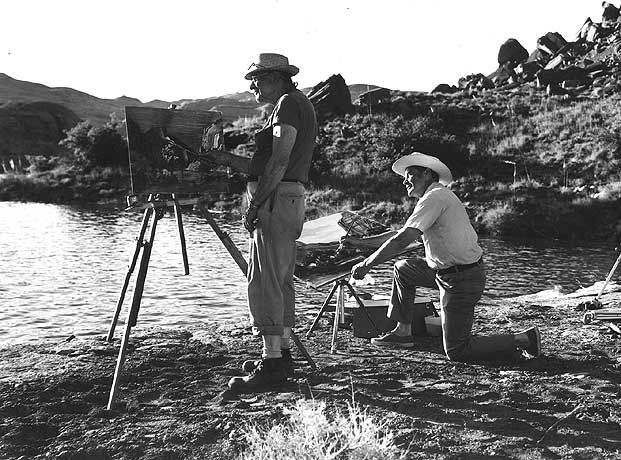 Artists Lynn (l) and Dean Fausett at Lake Powell.

Born in 1894 in Price, Utah, Lynn Fausett studied at Brigham Young University, University of Utah, and the Art Students League. In addition, he spent time in France studying art. He was awarded a Meritorious Service Award for his work as an art director in the Special Service during WWII. He did murals for the City Hall in Price and for Utah State Pioneer Park, among others.

Lynn Fausett's work falls into the Western landscape tradition. Painted with extreme precision, it is possible to identify every crease in the mountains, and every wave in the water. His compositions highlight the impressive grandeur of the West, focusing on dramatic mountains that rise out of the water without any prelude. There is a sense of the sublime, although it is not explicit, and power emanates from the rocks and cliffs. His paintings tend to be fairly classical in composition. In the case of Flaming Gorge, the mountain or rock formation is placed centrally on the board. His other two paintings, On Lake Powell and Slick Rock Canyon use water to lead the eye through the composition. In both, the water is centrally placed in the front of the canvas and then it perspectively winds its way back in the painting, angling to the right before disappearing between the mountains.



---
Return to Artists and Images