Ethel Edwards (1915-1999)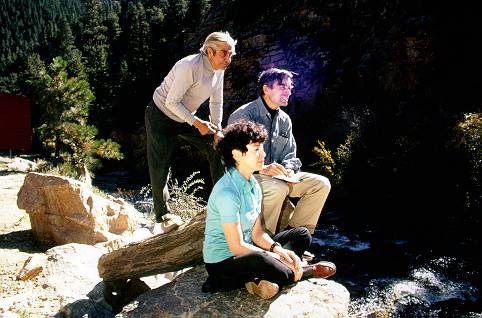 Artist Ethel Edwards with Xavier Gonzalez (L) and Chris Karras on the Colorado-Big Thompson Project, Colorado.
Ethel Edwards was born in New Orleans, Louisiana in 1915. She studied at H. Sophie Newcomb Memorial College Art School and was a student of Xavier Gonzalez, whom she later married. She has taught at Truro Center of the Arts.
The two large paintings that Ethel Edwards did for the Bureau of Reclamation are abstractions of water, rock and possibly concrete (she also did three ink washes). They are evocations, rather than representations, but are clearly based on her observations of water. She used paint that was thinned to the point that it would drip and bleed into other paint. This liquid effect is often achieved with watercolors, so it is interesting that she chose to use oil paints. Even though the oil paint has been thinned, it is still thicker than watercolor, so it does not mix together as thoroughly. Thus, it feels as though the paint were still wet; still in the process of dripping.
---
Return to Artists and Images