Lower Colorado Region Addresses/Contacts
Biography of
Lower Colorado  Deputy Regional Director
Jennifer McCloskey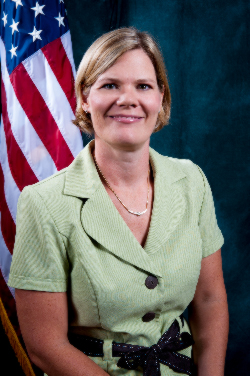 Jennifer McCloskey is the Deputy Regional Director of the Bureau of Reclamation's Lower Colorado Region. Headquartered in Boulder City, Nevada, the Lower Colorado Region is responsible for the operation of Reclamation's water and power facilities on the last 700 miles of the Colorado River, from Lee's Ferry in northern Arizona to the Mexican border.  McCloskey oversees Colorado River operations and actively works with water users and other affected stakeholders to resolve conflicts and develop strategies for future water resources.
McCloskey's career in water management began with Reclamation in 2005 where she most recently served as Area Manager for our field office in Yuma, AZ.   She managed the delivery of nearly two-thirds of the Lower Colorado Basin apportionment and the U.S. international treaty obligations with Mexico.
Prior to that, McCloskey served as Deputy Director of Tax Audit with the Department of Treasury in Washington D.C. Prior to public service she led domestic and international projects for private sector agriculture, technology and business services companies in Texas and Florida.  She has worked in Asia, Latin America and Europe and credits this international experience for her bilingual abilities which have assisted with Treaty involvements with Mexico. 
Ms. McCloskey is a Certified Public Accountant and a Project Management Professional with a Bachelor's degree in Political Science from the University of Arizona in Tucson and Master of Business Administration from Thunderbird, School of Global Management in Glendale, Arizona.
Last Updated: 6/5/15