Estes Park Transit Facility Parking Structure
Estes Park Transit Facility Parking Structure
The Bureau of Reclamation has released the Final Environmental Assessment (EA) and Finding of No Significant Impact (FONSI) for a Town of Estes Park proposal to construct up to a three-level parking structure on Reclamation lands.
Reclamation will issue a Special Use Permit to allow the parking structure to be constructed south of the existing Estes Park Visitor Center/Transit Facility. In 2011, the Federal Transit Administration (FTA) awarded the Town of Estes Park a $3,000,000 federal grant under the Paul S. Sabanes Transit in Parks Program. The grant provides funding for transit facility improvements and construction of a parking structure. FTA's final approval is still required before federal grant funds can be used to complete final designs and begin construction.
The project will expand the existing 102 stall surface parking lot by adding 108 new parking spaces in the parking structure. Another 202 new spaces could be accommodated on two future levels of the structure. Currently, the Town of Estes Park operates a free shuttle service to and from the Estes Park Visitor Center, with services to downtown Estes Park, Estes Park Events Complex and Park-n-Ride, Marys Lake Campground, East Portal Campground, and Rocky Mountain National Park's Fall River and Beaver Meadows Visitor Centers.
For additional information or to receive a printed copy of the EA/FONSI, please contract Terence Stroh at 970-962-4369 or tstroh@usbr.gov. For questions regarding the Estes Park Transit Facility Parking Structure, please contact Gregory Muhonen, Estes Parks Public Works Department at 970-577-3581 or Gmuhonen@estes.org.
Related Documents: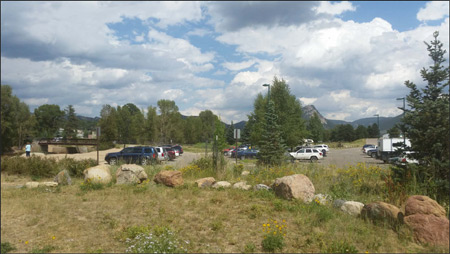 Last Updated: 5/6/16