ARIZONA
Gila and Maricopa Counties
THEODORE ROOSEVELT DAM NATIONAL REGISTER DISTRICT
Along the Salt River and shore of Lake Roosevelt in the vicinity of Theodore Roosevelt Dam
National Register 3/16/1998
The resources included in the Theodore Roosevelt Dam National Register District are significant for their association with the Salt River Project, one of the first irrigation projects undertaken by the U.S. Reclamation Service following its creation in 1902. The historic district is comprised of eleven resources that are associated with the construction of Theodore Roosevelt Dam between 1903 and 1911. Among the contributing resources are the Roosevelt Dam power plant, transformer house, and administration building, a cemetery, and archaeological sites that are the remnants of major construction facilities and the camp where Apache Indians working at the dam lived. Roosevelt Dam itself is no longer a contributing resource because of extensive modifications occurring in the late 1990s.
Theodore Roosevelt Dam Under Construction, Transformer House in Foreground, 1909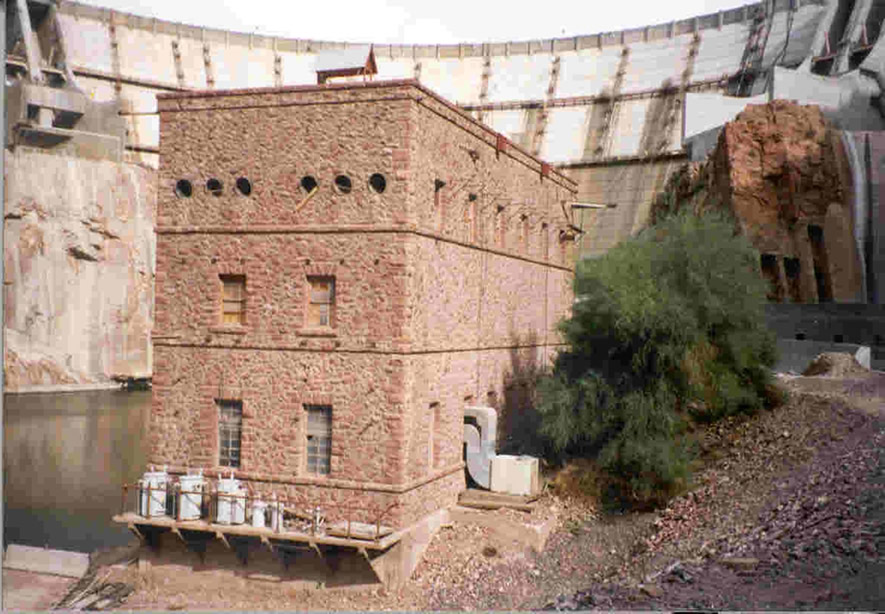 Transformer House with Reconstructed Theodore Roosevelt Dam in Background, 1996
Mohave County, Arizona
GOLD STRIKE CANYON/SUGARLOAF MOUNTAIN TRADITIONAL CULTURAL PROPERTY (TCP)
Boulder City, Nevada, vicinity
National Register 9/4/2004
The TCP consists of approximately 676 acres of land encompassing two sites, Gold Strike Canyon and Sugarloaf Mountain, that have been significant to the traditional cultural beliefs of the Mojave, Southern Paiute, and Hualapai (and most likely other tribes) for thousands of years. The site is on land administered by the Bureau of Reclamation and the National Park Service.
Yuma County, Arizona
MARTINEZ LAKE SITE
Vicinity of Fisher's Landing North of Yuma on the Colorado River
National Register 9/10/1987
The Martinez Lake Site, also documented as AZ-050-0210 or X:3:10 (ASM), consists of approximately 70 shallow surface depressions, some of which are encircled with either gravel or rock-lined berms, "tamped in" and cleared areas, and rock features, all occurring in discrete clusters throughout a large site location. The features are generally characterized as "sleeping circles." There is also an internal trail system and low-density lithic scatter. Based upon site characteristics and the presence of a moderate amount of desert varnish on most materials, it is hypothesized that the site may date from the archaic (Amargosan) period, perhaps also with later components present. If it does date from the archaic, the site is unusually large. The age of the site and feature function is a matter of speculation due to lack of scientific investigation. However, archaeologists believe the site could provide information about archaic settlement patterns and subsistence practices in the lower Colorado River area.

Return to National Register Properties Map
Last Updated: 2/3/21